Hello SOMA friends,
I want to do a little bragging on our friend and teammate Jon Nelson who started swimming with us a few months ago and has been rapidly improving.  Jon's hard work and ability to quickly incorporate feedback paid off last weekend when he went up to Sunriver, just outside of Bend, to do the Pacific Crest Olympic distance triathlon.  Jon is 51 years old and finished 4th overall (!!) in an extremely competitive field of young and talented triathletes.  He was also the first finisher over 50 years of age, which made him the overall Masters division winner.  Congratulations on an amazing race, Jon!  We're very proud of you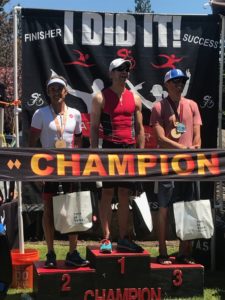 For those of you who don't know him, in the attached photo, Jon is on the left side of the podium in the white shirt.
Applegate Lake Swim registration is still open but only until July 5th, so register soon if you haven't done so already.  Registration is here:
As of today, there are already 125 participants registered so this is going to be the biggest and best swimming event ever in southern Oregon.  Don't miss out!
If you don't plan to swim at Applegate, please consider coming to volunteer as a safety kayaker.  If you're interested in volunteering, you will earn yourself a free lunch and a huge thank you!  Just respond to this email and let me know if you are interested in helping out.
July is a very busy month for Oregon Masters Swimming and there are more events that you should consider attending.  The full OMS event calendar can be found here:
http://swimoregon.org/events/
See you all waterside sometime soon!