Merry Christmas, SOMA people!
We had a great crew show up and swim fast at the Bend Meet last Saturday, December 14th.  What a great time we all had at the meet and going out on the town afterward as well!  SOMA swimmers in attendance included: Mike Dix, Rick Howell, Willard Lamb, Matt Miller, Matt Osborn, Erika Schumacher, Mike Servant, Cliff Stephens, and Jayna Tomac.
Attached are a few photos from the event and below are links to videos taken during the meet.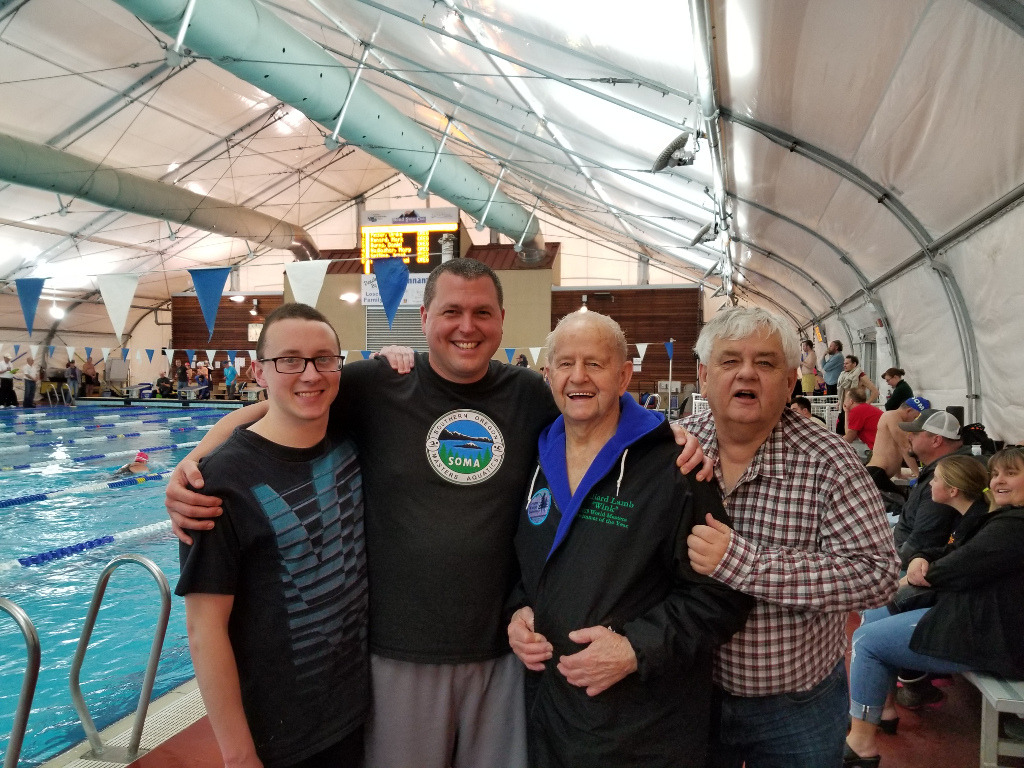 While I really enjoyed watching all of the SOMA people swim their events, I have to say that my favorite swim to spectate was the 200 fly showdown between SOMA swimmer Mike Dix and 1996 Olympic gold medalist Kurt Grote which was the first event out of the gate at the meet!
Video of the 200 fly race is here: https://youtu.be/ypbrZVzPBTs
Spoiler alert — Mike Dix takes down Kurt and narrowly misses posting the fastest time in the nation for men 45-59 by one one-hundredth of a second!  Great swimming, Mike!!
Mike also went on to post what will likely be top 10 times in the 200 back, 200 breast, 200 free and 400 IM on his way to setting a new Oregon record in the long-distance SCM pentathlon for men 45-49.  Wow!
And Coos Bay SOMA swimmer Jayna Tomac was able to claim the Oregon sprint SCM pentathlon record for women 45-49. 
Congrats Mike and Jayna!
All SCM Pentathlon records can be found here:
https://swimoregon.org/records_pdfs/OMS_Pentathlon_SCM_records.pdf
For Erika Schumacher, this was her first Masters meet and first swim meet in over 30 years.  Welcome back to the pool, Erika!
Below are links to the other videos taken at the meet.
Cliff Stephens 50 free: https://youtu.be/Qa75iiXas6g
Erika Schumacher 100 fly: https://youtu.be/kdOIEzA5MSA
Jayna Tomac and Rick Howell 100 IM: https://youtu.be/HSrJSofOs70
Jayna, Cliff, and Matt Osborn 50 fly: https://youtu.be/uaTSqeHfMcQ
Matt O. 50 back: https://youtu.be/FhrLNWxUKuo
Matt O. 100 IM: https://youtu.be/B7i5W5ru3_k
Mike Servant 100 IM: https://youtu.be/J34PWivQvJ0
Mike and Matt O. 50 free: https://youtu.be/5wI-Uz3LPTI
Mike Servant and Cliff 50 back: https://youtu.be/q0RmZIalCnw
Due to a strained groin, I didn't swim any individual events which allowed me to save my energy for a mixed 800 free relay in the 160-199 age group with Kurt Grote, Sara Shepherd and Alexis Higlett.  We were going after the NW Zone record time of 8:55.87.  
Kurt, Sara, and Alexis had a full and grueling event lineup, so I knew they'd be tired coming into the event.  I hoped that keeping myself fresh would make up for their tiredness.  We all swam very well but came up just a few tenths short of the NW Zone record with a time of 8:56.38.  So close!!  However, it is the new Oregon record and will likely be the fastest time in the country this year so it wasn't all for naught 
UPCOMING EVENTS
One-Hour ePostal swim January 1 to February 29, 2020 – Everyone in SOMA should plan on doing this event!  Make it happen as one of your practices.  I will time anyone at Superior who wishes to swim there.  
Santa Rosa Masters SCY Resolution Meet – January 11, 2020 – Thanks to Lin Parmentier for bringing this to my attention!  Since we have no meets in Oregon until March, those of you looking to find a meet sometime between now and then might want to consider this one!  Meet information and registration is here:
https://www.clubassistant.com/club/meet_information.cfm?c=1191&smid=12685
Bellevue Club Masters Mile – January 19, 2020 – Those of you distance people in the "SOMA del Norte" group might consider doing this meet. It offers only the 1500 SCM:
https://www.clubassistant.com/club/meet_information.cfm?c=1534&smid=12652
Oregon City Spring Ahead Meet – March 14-15, 2019: This is a fun meet to attend because it is dual sanctioned and the Masters swimmers take turns swimming events with the kiddos.
OMS Association Champs – Hood River, OR – April 3-5, 2020:  Mark your calendar now and save the weekend for sure!  The date and location are tentative but are pretty likely to firm up soon.
NW Zone Champs – Federal Way, WA – April 10-11, 2020:  Since both the Oregon City meet and OMS Association Champs are SCM format, this will be the closest meet for a shot at SCY this spring.  Use it as your taper meet for SCY if you aren't going to Spring Nationals or use it as a tune-up meet for Spring Nationals.  
2020 USMS Spring Nationals – April 23-26 in San Antonio: Several of us are planning to attend. It is the 50th anniversary of USMS and, as such, the annual "signature event" of USMS is planning to celebrate at this historical meet with unique offerings and special guests (think Olympians). I hope to see many of you there!
That's all I got for now. I hope you all have a very Merry Christmas and I'm looking forward to another year of swimming with you fine folks in 2020!!
Stay strong and fit, SOMA peoples