Hello SOMA people,

I hope you all are enjoying the onset of fall and the changing of the seasons.  Thank goodness the smoke has cleared and we are able to enjoy some beautiful fall weather in southern Oregon!
I have a couple of quick announcements for you:
One of our newest SOMA swimmers, Kari May, will be featured on the KOBI channel 5 segment "Five on 5" tonight!!  How exciting!!!  Kari recently moved from Utah to southern Oregon to take a job as the Library Director for the Jackon County Library Service District here in southern Oregon.  Tune in tonight to learn a little about Kari and her new job.  If you can't watch it tonight, I expect it will be posted online sometime soon here:
https://kobi5.com/category/features/five-on-5/
I'll try to send a link to the video as soon as I see it posted.

Mark Hageman is traveling on the east coast with his daughter, Abby, and is spreading the SOMA gospel there.  See the below photo.  Awesome!  Enjoy the rest of the trip, Mark!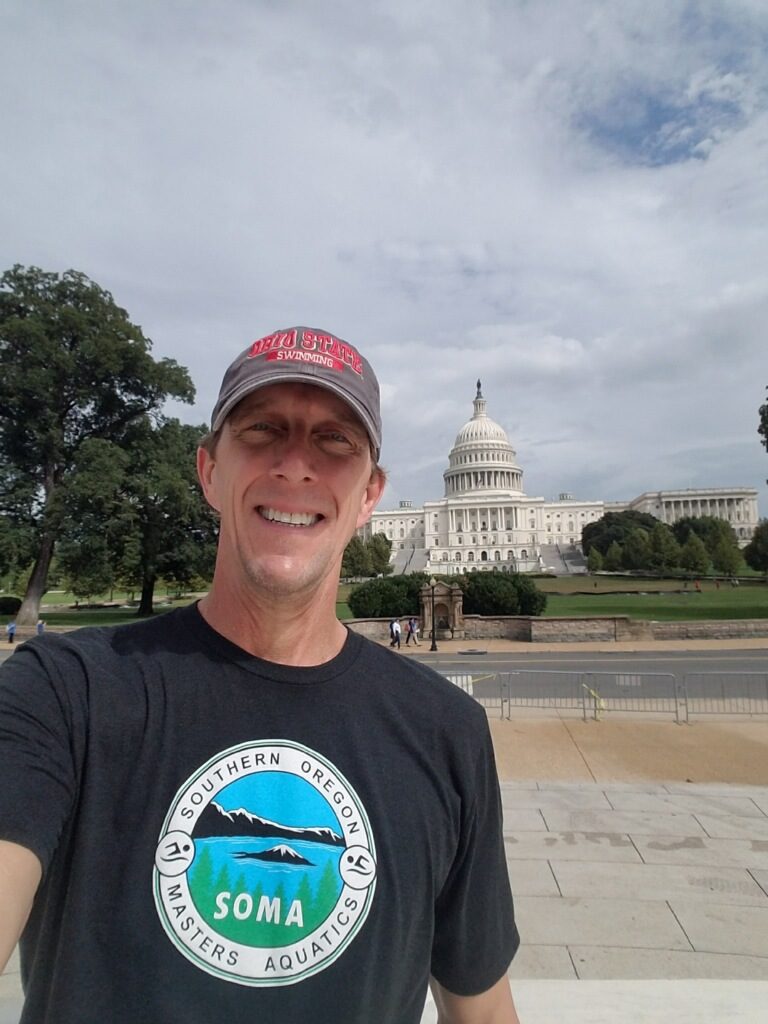 A couple of more things…

SOMA (SUPERIOR CREW) WORKOUTS NOW ONLINE
I have started posting the daily workouts we do at Superior online on the SOMA website here:http://somaswim.org/category/workouts/
For anyone who is training alone or is just looking for some workouts, feel free to use them.  

UPCOMING EVENTS

Now that open water season has come to a close, we are heading into short course meters (SCM) season, which will run through December.  Below are swim meets that I know for sure at least one SOMA swimmer is planning to attend.  There will be a fairly good-sized group of us who make the trip to Federal Way in mid-November for that 2-day meet in an awesome facility.  Come join us!!!  I hope to see some of you at one or more of these events!
October 12-14, Pacific Masters Short Course Meters Championships:
https://www.clubassistant.com/club/meet_information.cfm?c=1301&smid=10843
November 10, Hood River Short Course Meters Meet:https://www.clubassistant.com/club/meet_information.cfm?c=1352&smid=10880
November 17-18, Puget Sound Masters SCM Championship Meet:https://www.clubassistant.com/club/meet_information.cfm?c=1534&smid=10826
That's all for now!