Hello, swim friends!
It's been a while since I've sent anything out.  I hope everyone is doing well and that you are enjoying their time in the water lately.  There are a few newsworthy items that I'd like to share with you all.
FEDERAL WAY SWIM MEET THIS WEEKEND
Quite a number of us who swim at Superior are heading to Federal Way this weekend for the Puget Sound Masters Short Course Meters (SCM) Championships.  Coming from Superior, we will have:
Maggie Trujillo
Mike Servant
Mark Hageman
Barry Fasbender
Alice Fasbender
Matt Miller
And from our Rogue Valley Masters neighbors to the south, two more people will be in attendance:
Mike Oxendine
Chris Johns
So we'll have a pretty good crew there representing southern Oregon.  And we'll almost certainly come back with some new Oregon records set by our Superior swimmers.  I'll send a meet summary after the meet to give all the exciting details!  Wish us luck!
MARK HAGEMAN SETS NEW OREGON RECORD IN 200 FREE!
Last weekend, Mark Hageman and I road tripped it up to the Northwest Zone SCM Championship meet, held in Hood River, Oregon.  Swimming in the 55-59 age group, Mark was able to take down the Oregon record for the 200 meter free!  Congrats Mark!  Video of Mark's record-setting swim can be seen here:
Additionally, Mark and I had the neat opportunity to swim in two events with an Olympic gold medalist, Kurt Grote (Atlanta, 1996).  Below is a link to video of the 200 IM.  Kurt is in the middle of Mark and I, which should be fairly obvious right from the start as he blows us away!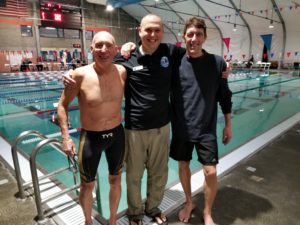 In addition to Kurt Grote, there was another Olympian in attendance at the meet: my good friend David Radcliff (Melbourne, Australia, 1956).  I've attached a photo of Mark and I with Dave, along with another photo of Mark and I enjoying a post-meet beverage.  The trip was a total blast, with lots of great memories made.  Looking forward to more trips like this one with many of you in the future!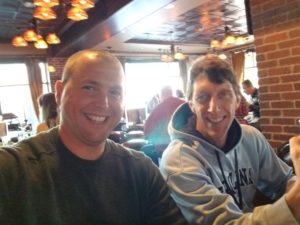 3000/6000 ePOSTAL SWIMS
Congrats to all of you who completed your 3000 and/or 6000 postals.  I was really happy with the number of people from our small group who did one or both of the swims!  Below is the list of people who participated in the swims.  I hope I don't leave anyone off:
Connie Wilson – 3000
Jan Hildebrandt – 3000
Leah Harris – 3000 and 6000!
Barry Fasbender – 3000
Ralph Mohr – 3000
James Verger – 3000
Matt Miller – 3000 and 6000
For those of you who don't know, Ralph, Jayna and James are our friends over on the coast, and they will be joining forces with us.  I went over to swim with them at the North Bend pool, which Ralph was able to secure for us for 2 hours one Sunday morning.  It was fun swimming with them, very nice people, in a very nice facility.
If you haven't done so already, please be sure to enter the event!  Register here:
Registration deadline is November 25th.  If you have any questions or need help with anything, don't hesitate to contact me for help.
Preliminary results from the event are scheduled to be available on or around December 7th, so stay tuned!
SOMA GET-TOGETHER
Connie Wilson came up with the great idea of having a get-together so that all of us could meet each other with clothes on and get to know one another a bit outside of the pool.  She even offered to host at her house in Shady Cove.  Thank you for that generous offer, Connie!
Given that most of us live in or around Medford, Mark and I talked this weekend about he and Sally (his wife) hosting the get together at their house just some 3 miles or so from Superior Athletic Club.  It seems like more people would be able to make it if we did it in Medford, so we're working on figuring out dates that will work for them to host.
I'll be sending out a survey sometime soon with a selection of possible days.  Please respond to the survey and indicate which of the days would work for you to attend.  Then we'll choose the day that works for the most people to come and make an announcement.
OK, That's all for now!  I'll send out an email sometime next week, reporting all of the details from the meet this coming weekend.
See you in the pool!