Hello SOMA swimmers,
There are a few tidbits to report!  Today most of us at Superior were able to get to the pool for a team photo.  Thanks to Alice Fasbender (not in the photo) for taking it!  See the attached photo titled "Superior SOMA crew."  We were missing some of the core morning group including Mike Servant, Leah Harris and Mike Scheffer, but it was a pretty good turnout!  Thanks to those of you who were able to come!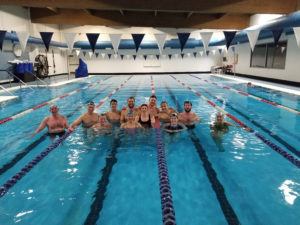 In the photo, from left to right, is Charles Roome, Frank Philipps, Barry Fasbender (front), Mark Hageman, Yeonjoo Lee (front), Matt Miller, Connie Wilson (front), Andrew Barrow, Mike Dix, Maggie Trujillo (front), Erinn Stefanich and Lisa Ross.
This photo will be used in an upcoming "Team Life" article featured in next month's AquaMaster (Oregon Masters Swimming newsletter).  I'll send a link to the article once it's published.
SOMA LOGO REVEALED!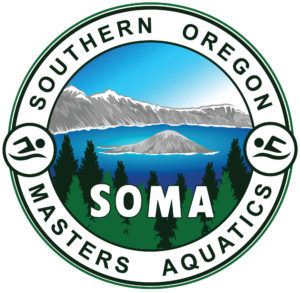 Our SOMA logo has been designed and is now ready for use!   If anyone has art skills and would like the EPS files to play with, feel free to contact me.
We'll get a banner printed so that we can hang it at the Oregon Association Champs in Corvallis in April 20-22.  This is the meet everyone should plan to attend.  It's looking like SOMA will have a good-sized crew attending, so it should be a blast!  I'll include more details in every future email 
TEAM COLORS AND PARKA ORDER (IF YOU WANT ONE)
Given our SOMA logo, our team colors are going to be blue, green and black.  Since starting in the sport of swimming about 6 years ago, I've always wanted a team parka and now it finally feels right to get my first one!  I just ordered a customized parka from SwimOutlet.com.  It will take 6 to 8 weeks to be delivered, so it will be here in time for the April meet.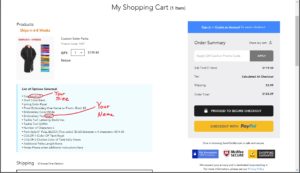 And here's what I chose for options:
FRONT EMBROIDERY: 
One Name on Front – Block $5 [+$5.00]
TACKLE TWILL LETTERING (BACK): 
Yes
TACKLE TWILL: 
SOMA
NUMBER OF CHARACTERS: 
4
FONT STYLE: 
5″ FULL BLOCK [Two color]- $3.60/character [+$3.60]
COLOR 1 (COLOR OF TEXT): 
Royal
COLOR 2 (OUTLINE COLOR OF TEXT): 
Kelly Green
ADDITIONAL 

PARKA

 LENGTH: 

None
The cost was $123.39 shipped.  For more reference, also see the screenshot of the options and what they look like during the checkout process.  The only things that would be different for anyone else ordering them would be the size of the parka and embroidery text on the front.  As usual, feel free to email or call 
(636-209-8916
) if you have any questions.
SOMA LAKE SWIMS
While it's not 100% for sure yet, it looks like SOMA will play host to 2 open water swims this year:  Eel Lake and Lake of the Woods.
Eel Lake (1500 and 3000 meter swims) is likely to happen on August 11th and located out on the coast between Coos Bay/North Bend and Reedsport.  Eel Lake is a beautiful venue and historically has been a great event.  COMA has hosted in years and the event might had been canceled this year if SOMA hadn't offered to host it.  Jayna Tomac (over on the coast) and I will be organizing the event and are looking for volunteers.  Please help us out if you can!
The Lake of the Woods swim will be on 
September 8th
 and is a new addition to the Oregon Open Water Series this year.  Also offering 1500 and 3000 meter swims, this event is scheduled as part of the 
Lake of the Woods Tri-Sport Weekend
.  My good friend Chad Wikander (founder of 
Rogue Valley Race Group
) has put this event on the last few years and asked for assistance this year to get the open water swim USMS sanctioned and part of the Oregon Open Water Series, so SOMA agreed to help.  
We may also need some volunteers at this event, so please consider coming.
Neither of these events are yet ready for registration, but we hope to get the details sorted out soon and start accepting entries.  I'll be sure to let everyone know when we're open for entries!
And SOMA will also be heavily assisting with the 
Applegate Lake Swim
, hosted by Rogue Valley Masters on 
July 14-15
.  This two-day event is the oldest open water swim event in Oregon, going on for over 30 years now.  Last year was my first year as race director, assisted in that role by SOMA swimmer Mike Servant.  Mike and I are taking on the same duties this year and are hoping that SOMA swimmers will show up to help out and have fun!
The 10K swim will be a USMS National Championship swim this year.  And the Sunday events of the 1500 and 500 meter pursuit relay are a total blast!  Be there!  Registration is already open here:
Everyone should enter to swim all three open water events (Applegate, Eel and Lake of the Woods) in Southern Oregon!!  And we'll definitely need volunteers as well.  It is easily possible to volunteer and swim.  But if you decide not to swim, please consider volunteering at the very least.
FOSTER LAKE CABLE SWIMS
The Foster Lake Cable Swims event will serve as the 2-mile cable swim USMS National Championship and also the 1-mile will be the Oregon Association Championships.  This one-day event will take place on Thursday, July 12, and is the open water counterpart to the April pool meet in Corvallis where all SOMA swimmers will swim as a team competing with others around our beautiful state of Oregon for bragging rights and a banner.  So plan on taking the day off work and coming up to swim at this wonderful event!
Registration is already open here and is limited to the first 200 entrants:
Sign up soon!
I suppose that's all for now.  Stay wet, my SOMA friends!