Hello swim friends!
JOIN USMS AND SOMA (Southern Oregon Masters Aquatics) TOMORROW!
As of 12:01am tonight (November 1st), you will be able to renew or join USMS under our new workout group, Southern Oregon Masters Aquatics (abbreviated SOMA).  Here's a link to the page to do so:
When you go to choose your affiliation, be sure to choose the following:
LMSC: (OR) Oregon
Club: Oregon Masters (OREG)
Workout Group: Southern Oregon Masters Aquatics (SOMA)
If you have any questions about the process, feel free to email or give me a call 
(636-209-8916
).  Oregon Masters Swimming does offer scholarships (partial and full, I believe), so if you feel like you may need some financial assistance with joining USMS, let me know and I can put you in touch with the right person.
3000 AND 6000 yard ePostal NATIONAL CHAMPIONSHIPS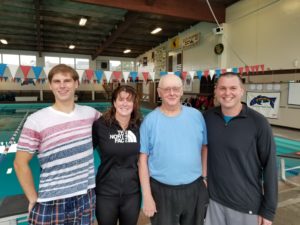 This past weekend four of us (see photo) swam our 3000 & 6000 ePostals in the North Bend Pool down on the coast.  James, Jayna and Ralph completed their 3000 and I did my 6000.  In the attached photo, from left to right is James Verger, Jayna Tomac, Ralph Mohr and me.  Huge thanks goes out to Ralph Mohr for coordinating pool time for us.  The four of us had the entire pool to ourselves.  They cooled the water down for us and opened the windows.  All four of us had great swims.
I'm really excited to hear that a couple of you are planning on swimming the ePostals at Superior.  Again, I will time anyone who wants to swim them!  Please contact me if you have even a small amount interest!
Again, the ePostal swims can be done in the pool of your choice.  The results are electronically submitted by people all over the country and results are tabulated.  There are 5 ePostals throughout the year and the 3000/6000 ePostals are going on now.  These ePostal swims are great training opportunities and, if done annually, are great for measuring your current level of fitness and improvement from previous year.  The 3000/6000 ePostal swims can be done anytime before November 15th.
For more information, see here:
UPCOMING EVENTS
There are a few of us who will be attending meets within the next few weeks.  First up is the Northwest Zone Championship meet in Hood River:
Mark and I will be driving up on Friday, November 10th.  If anyone is interested in joining us, please let me know.
The weekend after that, quite a number of us from southern Oregon will be heading to Seattle for the Puget Sound Masters (PSM) meet:
Again, please let me know if you have any interest in attending!
There will also be the annual Bend Short Course Meters (SCM) Pentathlon meet on December 9th:
And a really fun, quick meet in December with very cool awards is the Canby Animal Meet on December 17th:
THE FUTURE OF MASTERS SWIMMING IN SOUTHERN OREGON
While swimming with our friends down on the coast this weekend, we had a conversation about combining forces.  We agreed that it would be fun to swim as one large team at the Oregon Association Champs (pool and open water) events.  And both of our groups have some role in running lake swims — Applegate Lake in July for us here in the Rogue Valley, and Eel Lake in August for our friends out on the coast — which require a lot of manpower to make successful, so having more people involved would be very helpful.  With the somewhat sparse population in southern Oregon, we agreed that it would benefit both groups to team up.  So tentatively the plan is to join forces.  Jayna has already committed to joining SOMA this year, which is very exciting!  The future is looking bright!
Happy Halloween everyone!  See you poolside sometime soon, I hope!!