Hello SOMA people,
It has been a little while since I sent you the last installment of SOMA news. As such, I have a few items of news and updates to report since the last email.
Here are a few tidbits of information to disseminate, delivered in chronological order!
2019 POSTAL TWO-MILE RELAY

I mentioned this awesome event in a previous email. Since then, 4 of us at Superior (Mike Oxendine, Mark Hageman, Mike Dix and I) have completed it, setting a new national record in the process! Despite the fact that we couldn't use the blocks and had to start each 100 with a wall push, we were able to swim 36 x 100 in 36:48.31 which was good enough to take the record in the 35+ age group! And, more importantly, it was a ton of fun and an incredible workout!! It was so much fun and such a great training event, we all want to do it again on a regular basis.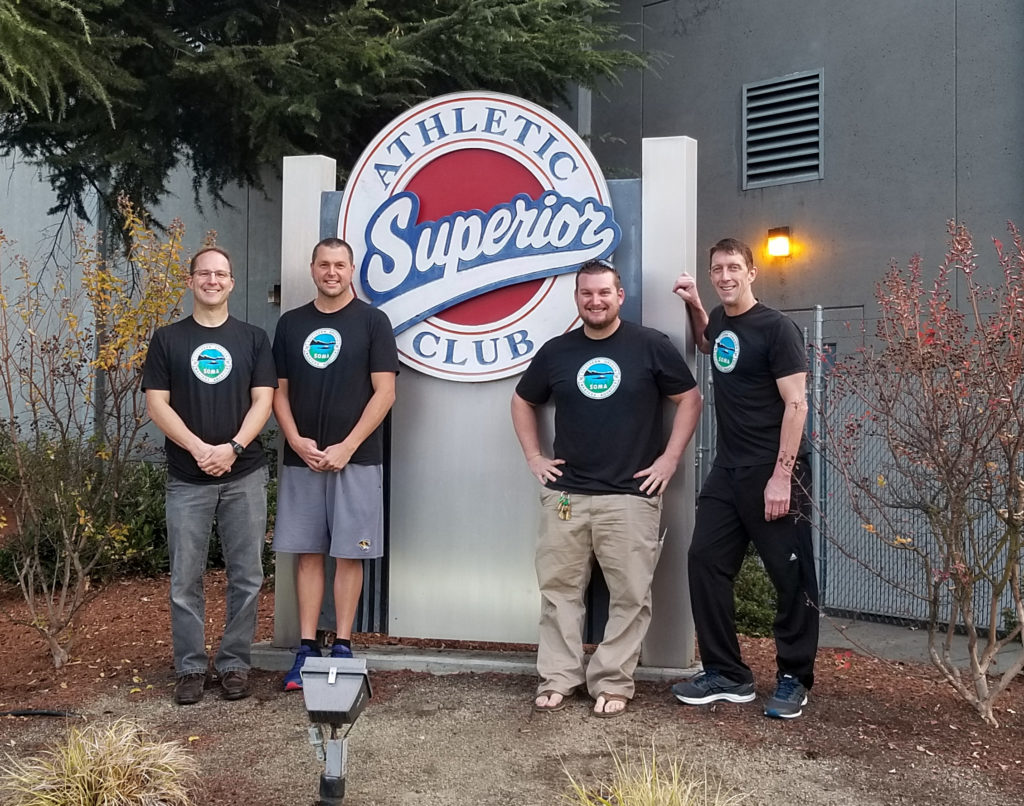 If you haven't done so already, I'd strongly encourage you to do this event before the end of November and get a relay submitted. Choose a workout partner or 2 or 3 and go for it. If you have even half as much fun as we did, you'll have a blast. After swimming it, enter the event here:
https://www.clubassistant.com/club/meet_information.cfm?c=2416&smid=10899
Rules and more information can be found on that page as well.
11-10-2018 HOOD RIVER SCM MEET RECAP
There were 5 SOMA swimmers who made the trip to Hood River to swim at the Hood River Aquatic Center:
James Adams, Rick Howell, Willard Lamb, Jeff Piette, and me. It was fun to see some of our "SOMA del Norte" swimmers who I don't get to see as often as others. I recall that everyone swam well, but unfortunately the results from the event are not available yet, so I can't deliver a full results summary.
One very cool result to report is that James and I teamed up with Olympian Colette Crabbe and the amazing Arlene Delmage for a mixed (2 men, 2 women) 4 x 200m freestyle relay which set an Oregon and zone record in the 200-239 age group (our ages added up to exactly 200 years) with a time of 9:28.95, bettering the previous record by 8 seconds!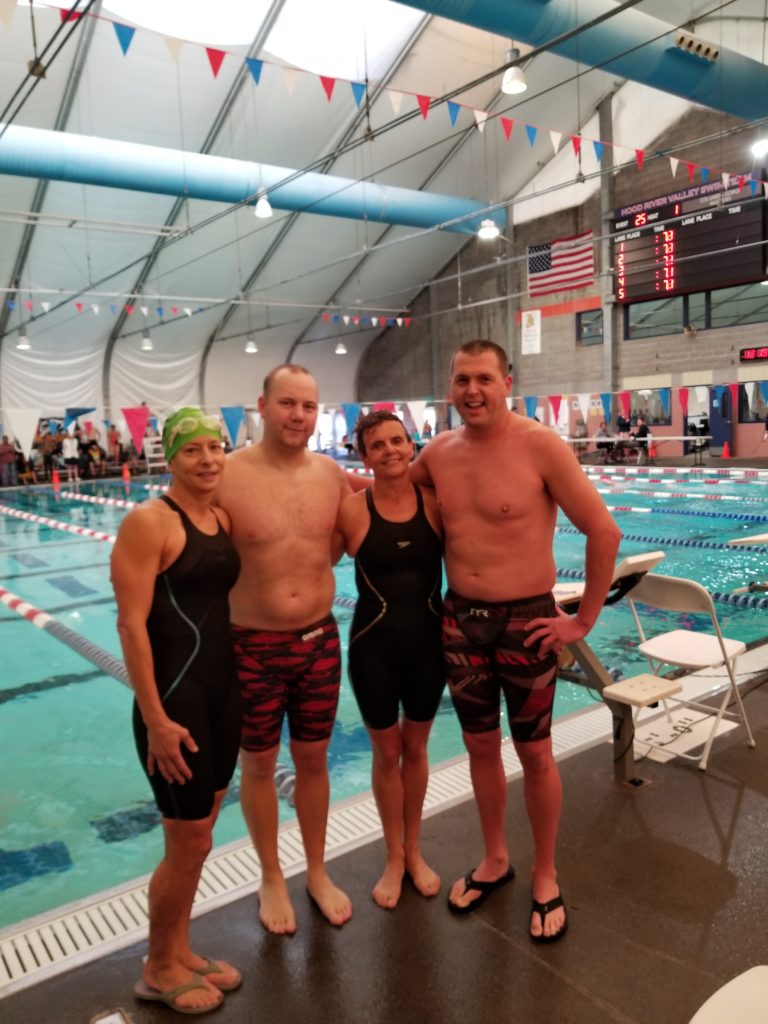 I know that several of us posted times that will be top 10 times in our age groups as well. Great job SOMA swimmers!
2018 PSM SCM CHAMPS (11-17-2018 to 11-18-2018)
This is the best SCM meet of the year in the pacific northwest, perhaps even on the west coast. Last year SOMA brought a big crew to the meet. This year we weren't quite as well represented, but we made up for it with our outstanding performances!!!
Maggie Trujillo, who recently relocated to Seattle for her new executive chef job at Aerlume restaurant which is set to open on December 26, was able to attend the meet despite her busy schedule. It was a real treat for those of us who came up from southern Oregon to get to spend some time with her! And Maggie was ready to roll at this meet, posting multiple times that will almost certainly hold up for national top 10 times in her age group.
Mike Dix also had an outstanding meet. If I were a betting man, I'd say that all 6 of his swims this weekend will be national top 10 times. Most impressive of all were his swims in 100 and 200 fly. Mike bested Olympic gold Medalist, Kurt Grote, in the 100 fly, going a time of 1:01.51, to Kurt's 1:02.32!! Wow!! And Mike's time in the 200 fly (2:15.57) is currently 1st in the nation!! We shall see how the rest of the season, which ends December 31st, shakes out, but that time is likely (hopefully!) to hold that top national spot, awarding All-American honors to Mike.
Willard continues to defy aging. At 96 years old, he swam 6 events (50 free, 100 free, 200 free, 50 back, 100 back and 1500 free). Most impressive for Willard was his 1500 free time at 33:07.44, only about a minute off what he went last year at 95. He just keeps going!!! Of course, all of Willard's swims will be top of the 95-99 age group.
Rick Howell, breaststroke specialist, had very good swims in the 50 breast, 100 breast, and 200 breast, along with the 100 free, winning his age group in the 50 breast and taking 2nd in the 100 and 200 breast and 3rd in the 100 free.
I too had some good swims. I was most happy with my 2:53.29 200 breaststroke (I am NOT a breaststroker), which was a new PR for me and is likely to stand up for a top 10 national time in my age group.
And Mike Servant came along for the trip despite being too injured to compete. He did a great job playing "swim dad", counting laps for our distances swims and cheering for us SOMA people. It was fun to have him there! Thanks for coming, Mike!!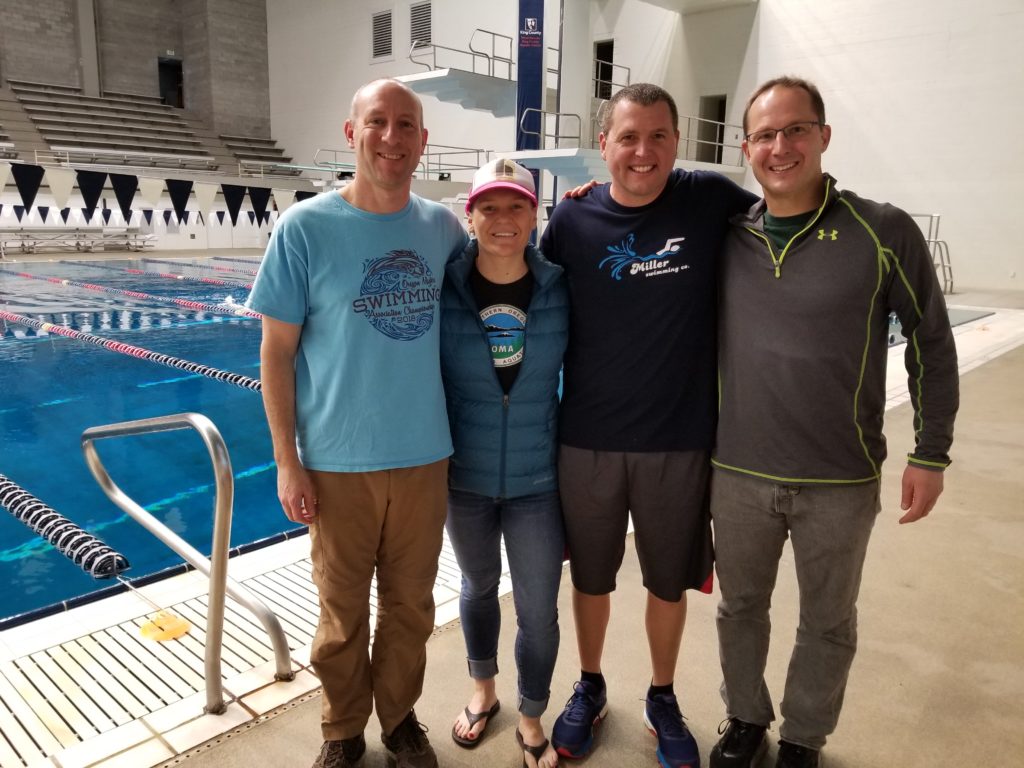 Full results from the event are here: https://www.clubassistant.com/c/D63FBF8/file/results/2018/Results%202018%20PSM%2C%20NW%20ZoneSCM%20Champs.pdf
UPCOMING EVENTS
There are a couple of OMS events coming up in the next few weeks:1) A Short Axis Clinic on December 2nd2) The Bend SCM All-Around Challenge on December 8
A few people have mentioned that they might attend the meet in Bend on December 8th. Please let me know if you are considering attending.
OK, that's all for now. Those of you who I haven't seen in a while, I hope you are well and I look forward to seeing you again soon. At the very least, it is only about 5 months until the Oregon Association Championships (date and location TBD), and I hope to see the vast majority of you there!
Swim on and stay SOMA STRONG!!