Congratulations to everyone who swam this weekend and thank you all for coming!  What a great time we had at the OMS Association Champs.  I've never had such a fun time at a meet as I did this past weekend.  We have a wonderful group of fun, friendly, supportive, and talented people that are SOMA.  I'm so proud to be a part of this newly formed team!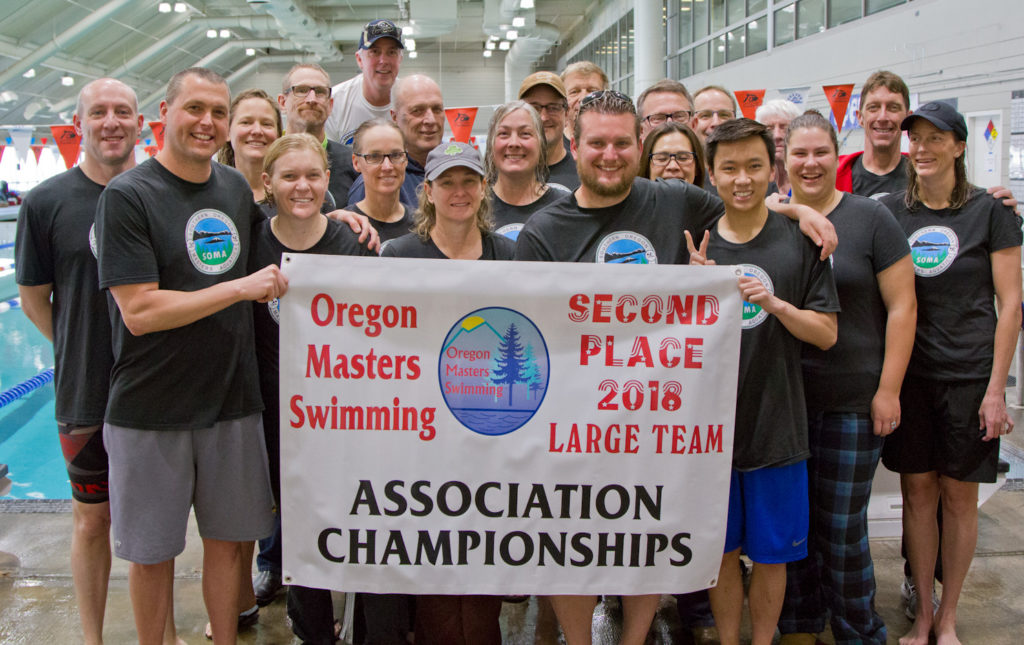 SOMA was also runner-up for the Team Spirit Award this year.  The Oregon City Tankers won it again for the 8th year in a row.  Congrats to them!  Let's plan to make a play to challenge them for the title next year though!  Start working on your cheers now 🙂
SOMA also had several people recognized for achievements at the OMS Awards Banquet!
Women 49 & Under: Jayna Tomac – 2nd place
Men 49 & Under: Matt Miller – 1st place
Men 80 & Over: Barry Fasbender – 1st place
SOMA men owned the Most Outstanding Swimmer achievements!
There were quite a few other SOMA swimmers listed at various places throughout the booklet and who also received awards.  You can see the full booklet here:
Just click on the "2018" link to see the booklet from this year.  You can also look back at previous years if you'd like.
See the attached photo for what the patch looks like.  They have an iron-on backing which would work fine for something like a mesh trucker hat, but they are best sewn onto backpacks, parkas, jackets, shirts, etc.  They could also be ironed on in the desired place to hold them while sewing them on.
I'm sorry that I didn't get more videos than this, but between swimming my own events and doing various team-related tasks I wasn't able to get as much video as I would have liked.  In any case, below are links to videos that I was able to take.  If you want the original file in high resolution, just let me know.  I also apologize for the shakiness and bad filming in some of these videos!!
That's all for now!  See many of you in 2 weeks at the SOMA party!