Hello SOMA swimmers!

Below are a few updates and some information about upcoming events.  Please at least read through the Lake of the Woods information and either register to swim the event or consider coming to help be a safety kayaker.
LAKE OF THE WOODS SWIMS – SEPTEMBER 7
This Saturday is the grand finale of the Oregon open water season, taking place in our own back yard (well, most of us anyway!) up at Lake of the Woods on Saturday morning.  Event information and registration can be found here:
https://www.clubassistant.com/club/meet_information.cfm?c=2441&smid=11819
If you do not plan to swim, please let me know if you can come help at the event as a safety kayaker.  Any help would be greatly appreciated!
DIRECTIONS TO SOMA/RVM POST-SWIM GET-TOGETHER AT JAN AND LARRY HILDEBRANDT'S CABIN
Like last year, Jan and Larry have graciously offered to host a SOMA/RVM post-swim, potluck-style get-together at their cabin on Lake of the Woods!  After awards and cleanup are done, likely around 1pm or 1:30pm, we will head over to their cabin for some food and fun.  Even if you can't make it up for the swims or to volunteer, please plan on bringing a side dish and coming to hang out with your swim friends!  We plan to have a ski boat so plan what to bring with you accordingly!

Please RSVP to matt@flytrapcare.com and jdhildebrandt12@gmail.com by hitting "Reply All" to this email if you plan on coming.  If you have any special food requirements, please let us know as well.
Below are directions to the cabin from Jan:
From the Lake of the Woods Lodge, return to Highway 140 and turn left or west. Go about 3/10 of a mile and turn left at the first paved road. Before the turn, you will see a brown sign for camp McLaughlin, camp Esther Applegate, and brown mountain. 

From Medford, take foothills Road or Highway 62 to Highway 140. Go east on Highway 140.  Our turnoff is right before the turnoff to Lake of the Woods lodge.  Our road is marked by a brown sign for Camp McLoughlin Camp Esther Applegate and brown mountain and is just past the highway marker for mile 35. Turn right on the narrow paved road and follow the notes below.

Our cabin is 2.1 miles from Highway 140 on the left. We have a green roof on a brown cabin and we are in cabin number M9. There is a sign at the top of our driveway with several names including ours.
Phone 541-816-7612
RICK HOWELL REPRESENTS USA AND OREGON WELL AT FINA WORLDS IN KOREA

SOMA swimmer Rick Howell (Vancouver, WA) went to Gwangju, Korea to swim at FINA World Masters Championships in mid-August.  He swam exceptionally well, placing 5th in the 100 and 200 breaststroke events (top 6 earn a medal) and narrowly missing a medal in his third event, the 50 breaststroke, taking 7th by one one-hundredth of a second.



Placing in the top 6 at FINA World Masters Champs is an extremely challenging thing to do.  Congratulations, Rick, and keep up the great work!!
JON NELSON QUALIFIES FOR USA TRIATHLON WORLD CHAMPS
On August 10th, SOMA swimmer Jon Nelson (Medford, Oregon) went to USA Triathlon Age Group National Championships in Cleveland, Ohio.  Jon performed exceptionally well in the Olympic Distance triathlon, placing 18th out of over 150 competitors in the Men 50-54 age group.  The top 18 finishers automatically qualify for 2020 World Champs in Edmonton, Canada, so Jon claimed his spot for that event!  Well done, Jon, and best of luck in Canada next year!!!  We will work you hard to get you ready to swim fast there!
SOMA TAKES 2ND AGAIN AT OREGON LCM STATE CHAMPS

SOMA was well represented and swam very well at the Gil Young Memorial meet on August 23-25.  We had a total of 12 SOMA swimmers at the meet, 10 men and 2 women.  Ladies — we needed your help to edge out Oregon Reign Masters (ORM), our friendly team rival!  SOMA scored a total of 324 points to ORM's 449.  However, our men scored 297 of the 324 points and outscored ORM's men!  We just need more ladies to make the rivalry more interesting.  Next year let's show up in true SOMA force!!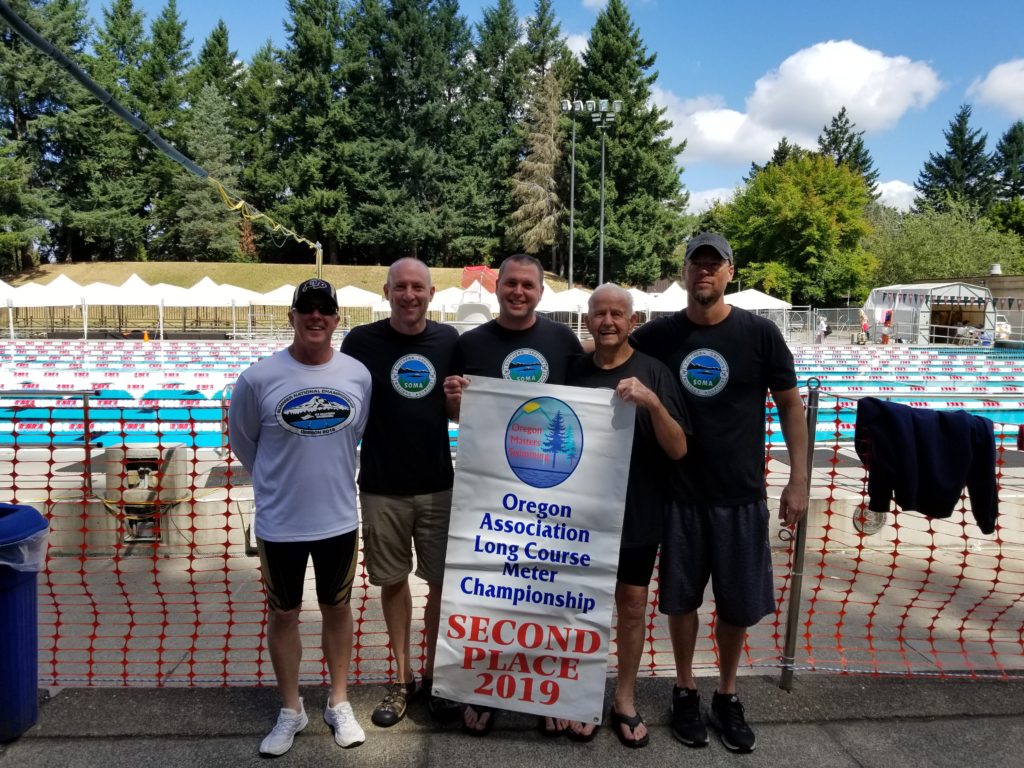 Some notable swims by SOMA swimmers are:
Wes Edwards's Oregon Record in the 200 backstroke (2:53.93) for men 65-69
Dan Kirkland's Oregon records in the 400 freestyle (5:16.85) and 1500 freestyle (20:55.40) and his Oregon & Zone record in the 100 backstroke (1:19.30).

And Willard Lamb, keeping up his record-setting ways at 97 years of age, assisted a mixed medley relay in the age group of 320-359 to a National record (3:05.67).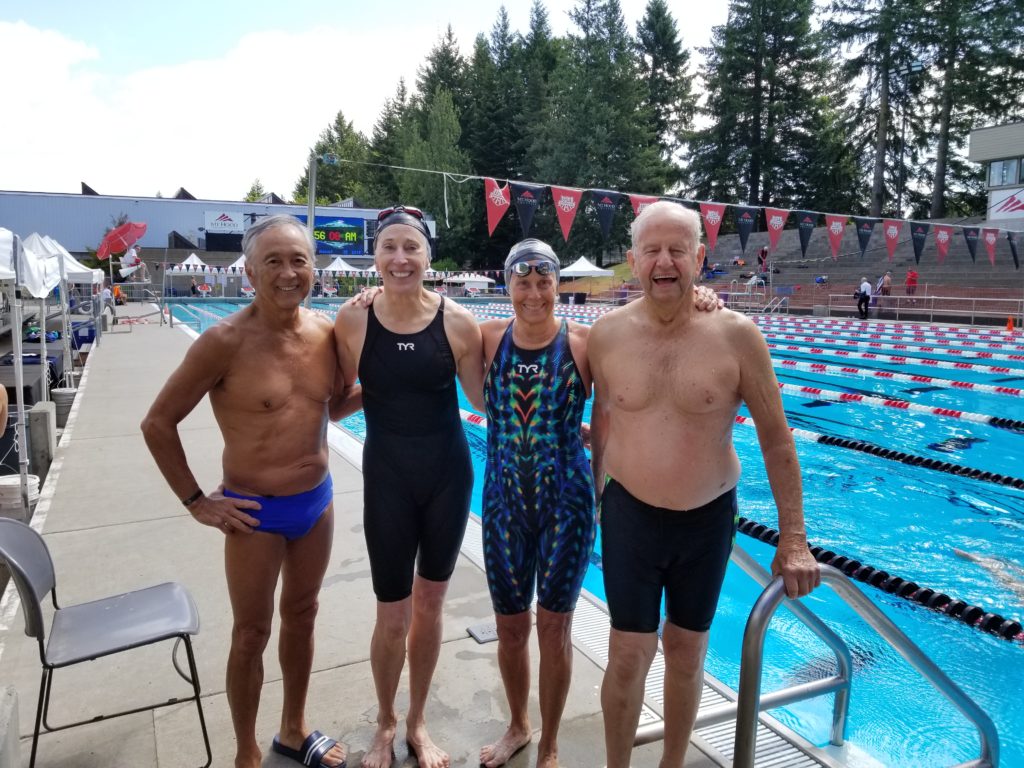 Congrats to everyone who was able to come out and swim, including our two lonely SOMA women: Alice Fasbender and Lisa Parmentier.  This was Lisa's first meet since January and the meet in January was her first in many, many years.  Welcome back to the pool, Lisa!
THE ENGLISH CHANNEL SWIM WAS NOT TO BE
Last time I sent out a SOMA updates email, I was about to leave for England to attempt to swim across the English Channel as a relay with my friend Christian Tujo.  Well, we made it there and had a lot of fun hanging out in Dover for a week, but unfortunately (as most of you already know), the weather didn't cooperate and we never had an opportunity to attempt the swim.  It was disappointing, of course, but the trip was still a lot of fun.  Thanks to everyone for the support and well wishes!

OK, that's all for now.  I hope to see you all at Lake of the Woods on Saturday or sometime soon near water