Hello swim friends,
It's been a couple of weeks since I sent out the last email to you all.  I hope you've been having a good January.  Mine has been terribly busy, but that's a good thing!  High School swim season is nearing its end (I coach at St. Mary's) and I'm excited for the upcoming big meets.  And once it's over, I'm excited to have some more time to do other swim-related things!
PARKA ORDER – ORDER SOON TO GET IT IN TIME FOR APRIL!!!
Since some of you might have missed it in the previous email, our team colors are going to be blue, green and black.  Many of us have already ordered custom parkas for keeping warm at events and elsewhere to show off our team pride and have a place to put our hard-earned patches.  If you'd like to order one as well, be aware that they take 6 to 8 weeks to be delivered, so they need to be ordered soon to have them in time for April.  Instructions on how to customize them to match everyone else's are here (half-way down the page):
And the image of what it should look like in your shopping cart is here: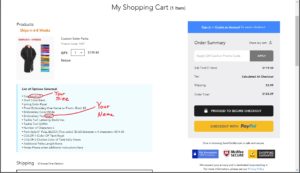 As always, feel free to email, text or call me with any questions!
SOMA FEATURED IN OREGON MASTERS SWIMMING NEWSLETTER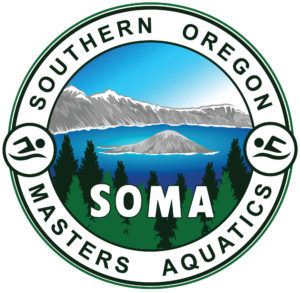 Thanks to help with photos and information from Tanya Baxter in Klamath Falls and Jayna Tomac in Coos Bay, we put together an article that was featured in this month's Oregon AquaMaster Newsletter.  The online version can be found here:
And for a different style and (sometimes) additional information, check out the PDF format version here:
ONE-HOUR SWIM UNDERWAY
So far I know of only one SOMA swimmer who has done their one-hour swim.  Congratulations, Leah Harris!  I plan to do mine this Sunday in Coos Bay.  I know of two other people (Yeonjoo and Connie) who plan to do theirs later in February.  I believe Vicki is interested as well, but she and I need to sort out a time slot for her (email me back Vicki!).
Please do it!  See the "
Ten Reasons to do the One-Hour Swim
" file if you need some motivation.  Also, the PDF file "
ePostal Series Description
" gives more details about the Oregon ePostal Swim Series & Awards.  These are great events that are (mostly) easy to do because you can do them in the pool of your choice on the date you choose within the window for the event.
The 1-hour swim must be completed by February 28th.  I will time anyone at Superior Athletic Club who wishes to do it.  Just let me know when a good day is for you and I can probably make it work with my schedule.
RVM AND SOMA PARTY
Our friends and neighbors from Rogue Valley Masters are hosting their annual party soon and would like to invite all of us SOMA people as well.  Fun!  Most everyone on this list should have already received an invitation to 
fill out a survey
 to choose the day that works best for you.  If you haven't done so already, choose the day that works best for you.  I know for some of you it would be a very long drive, but it would be great to see a lot of SOMA people at the party.  Bill and Hailey are great guests and their "shack" is a great venue for a party.  Don't miss what promises to be a fun time!
OREGON CITY MEET OPEN FOR REGISTRATION
Several of us have already entered or plan to soon.  This will be the only Oregon Masters meet before the April Association meet, so it is a good opportunity to get a couple of swims in before the "big showdown" in Corvallis on April 20-22.  It is a well-run and fun meet that is dual-sanctioned with USA swimming, so we will be swimming alternating events with the kiddos.  It's a really good time!  Plan to attend if you can fit it into your schedule.  Meet information and registration can be found here:
https://www.clubassistant.com/club/meet_information.cfm?c=2199&smid=9886
OREGON MASTERS STATE CHAMPIONSHIPS – CORVALLIS APRIL 20-22
This is THE target meet of the year for most people in Oregon and should be the one event of the year that EVERYONE on this list should attend.  Meet information isn't up yet, but I'll pass it along as soon as it is.  Definitely block out that weekend on your calendar and plan to join all of us to make our SOMA debut at the state championships.  I think we're going to surprise a lot of people this year with how large of a group we come with and how much fun we have.  It's going to be a blast!
TEAM SUITS
Since we'll all be swimming as a team at the Oregon State Champs, in addition to parkas, it would be fun if we had matching suits, especially for doing relays together.  Andrew had the good idea and so we picked out suits.  Andrew received his last week and is swimming super fast since putting it on.  Is it the suit?  Maybe!  Here are the ones we decided to go with:
I plan on getting one to wear in April.  I hope you do too!
SOUTHERN OREGON LAKE SWIMS
They're a long way off still, but I want to be sure that everyone is aware of the 3 open water events we'll be hosting or strongly supporting this summer:
Several of us are already signed up for Applegate Lake.  Mike Servant and I will be race directors for this event for the 2nd year.  It's the longest-running open water event in Oregon and is one of the best events on the west coast.  This year it will host the USMS 10K National Championships.  I hope that everyone either swims the event, volunteers at the event or does both!
The Eel Lake Swims have been running for 12 years now, this year being the 13th.  We inherited this swim from Central Oregon Masters Aquatics (COMA) this year because the logistics of running the event weren't going to work out for them.  I'll be race director and Jayna Tomac and Ralph Mohr in Coos Bay will be heavily assisting with the event.  Again, I hope that everyone on this list attends or volunteers to help at the event.  It really does take a team of people to make these things happen!
And lastly, the Lake of the Woods Swims will be added to the 
Oregon Open Water Series
 this year for the first time (Applegate and Eel are already part of it).  Due to the geographic location of this event, I suspect that it will be more well attended by SOMA swimmers than the other 2 events…at least that is my hope!  And again, please consider swimming the event or, at the least, helping out by kayaking (for safety) or any other role that may be needed.
OK, that's all for now.  See you all poolside sometime soon!