Merry Christmas, southern Oregon aquatic enthusiasts!
BEND PENTATHLON AND CANBY ANIMAL MEET SUMMARIES
The Bend Pentathlon meet was a success for the 4 of us who made the trip up the hill to swim in Bend.  The meet was smaller than normal this year, with only 36 swimmers registered.  That meant the meet moved very quickly.  Thankfully the race director, Bob Bruce, put in breaks so that each series of stroke events started 30 minutes apart.  The 200, 100 and 50 fly events were swum first, then backstroke, then breast, then free and finally the 400, 200 and 100 IM events before the 1500 free at the very end of the meet. That made the day manageable, though still very painful, for those people doing the long pentathlon events.
Mike Dix did the grueling long pentathlon lineup (200 fly, 200 back, 200 breast, 200 free and 400 IM), posting some very good times in his events.  In particular, his 200 fly time of 2:27.72 is the 
3rd fastest time in the history of Oregon Masters Swimming
.  Wow!  And will likely be the 3rd fastest time in the nation this year for men 45-49.  Congrats Mike!
Mike Servant chose 3 events to try to post very fast times, which he successfully did.  His times in the 50 back (29.96), 50 free (26.02) and 100 IM (1:05.94) were solidly in the 
all-time top 12 listings for Oregon Masters Swimming
 and are very likely to hold up for national top 10 times in his age group (45-49) this year.
I swam the mid-distance pentathlon lineup (100 fly, 100 back, 100 breast, 100 free and 200 IM) with the hope of getting the Oregon record for the cumulative time of the 5 events.  Oregon Masters maintains records for this unique meet format, which provides a little incentive for some people to try to post good times in all the events to see where they stack up.  I was able to get the record for men 40-44 with a 7:19.22, bettering my time and record from last year (7:23.38) when I was 39.  I'm very pleased with that!
But the star of the show from southern Oregon was Barry Fasbender!  Barry set 2 more Oregon records and one Northwest Zone record for men 80-84!  Barry improved his time from Federal Way in the 200 fly, posting a 4:52.32 for an Oregon and NW Zone record.  And in the 400 IM, the event in which Barry was disqualified at Federal Way, Barry swam a 9:00.44, getting the Oregon record.  Congratulations Barry!
The weekend following the Bend Pentathlon meet was the Canby Animal meet.  This meet also has a unique format where people swim one IM event, one butterfly event and one distance-freestyle event.  The "Sprint Animal' version is 100 IM, 50 fly and 200 free.  The "Middle Animal" version is the 200 IM, 100 fly and 500 free.  And the "Grand Animal" version is the 400 IM, 200 fly and 1000 free.
Barry and I both got our money's worth and did the "Grand Animal" version!  Barry already has the Oregon record in the 200 fly, so he had a goal of getting the Oregon record in the 400 IM at this event but narrowly missed it.  Unfortunately, there was a breakdown in communication and the pool didn't get cooled down for the meet like it was supposed to.  At the start of the event, the pool was very, very hot at over 86°F.  Barry will try for the 400 IM record again in April at the Oregon Association Champs meet which should have much better conditions.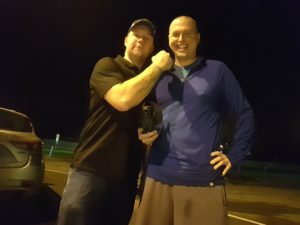 The Animal meet offers one of the coolest awards – the highly-coveted gargoyle trophies! – I've seen at any swim meet for the overall winners (cumulative time of the 3 events) in each of the categories.  I had some very serious competition in the "Grand Animal" category this year.  It was a 3-way race between me and 2 other guys (James Adams from Washington and Adam Trexler from Portland) who are very high-level masters swimmers.  I really enjoyed the competition!  I was in 3rd place going into the 1000 free at the end of the meet and had to make up 15 seconds on James to take the overall win.  I managed to swim a personal best of 10:52 in the 1000 free, beating James and Adam by about 23 seconds and earning the overall win by just 8 seconds.  It was exhilariting!  James and I snapped a photo (attached) in the parking lot where he threatened to mug me to take home the hardware 🙂  But I successfully got my new gargoyle home to his 2 other buddies who were waiting for him (I won the event 2 other years in the past).
SOUTHERN OREGON SWIMMERS PLACE WELL IN THE 3000/6000 ePostals
Preliminary results are now posted for the 3000 and 6000 ePostal swims.  Links to results can be found at the bottom of the page here:
We had quite a number of people from Superior and over on the coast who represented southern Oregon quite well!  I'll try to list everyone here who participated in the event, but apologies if I leave anyone off!
For the women in the 3000:
30-34    11th place    Leah Harris   48:30.85
60-64    6th place     Jan Hildebrandt    47:46.38
65-69    8th place     Kate (Connie) Wilson    1:03:13.02
For the men in the 3000:
40-44    1st place     Matt Miller    33:45.56
75-79    2nd place    Ralph Mohr    49:42.26
80-84    2nd place    Barry Fasbender   52:45.86
For the women in the 6000:
30-34    7th place    Leah Harris   1:41:35.31

For the men in the 6000:
40-44    1st place    Matt Miller    1:09:16.42

Congrats to everyone who did the swim!  We represented southern Oregon very, very well.  A job well-done, to be sure!
And congrats Jayna (and me) on earning Long-Distance All-American honors by finishing first in the age group!  Relay results haven't been posted yet, but many (perhaps all) of those people listed above will end up on relays that will also have a chance of earning All-American honors there as well.
UPCOMING EVENTS – 1-hour ePostal, March Oregon City Meet and April Oregon Association Champs
Everyone on this email list should swim the 1-hour ePostal this year.  It can be swum in any pool from January 1st through February 28th.  This event is a great way to monitor your fitness every year and is also a great training swim during a part of the year where there isn't much competition happening.
Once you complete the swim, take your split sheet and enter the event here:
I will happily time anyone who wants to do the swim at Superior.  I'm planning to time Leah and Mike (can't remember which one now!? — please email to let me know who) on January 2nd at 6:30 am at Superior.
And don't hesitate to shoot me an email or give me a call if you have any questions about the 1-hour swim.  Please do it!!!
The next two Oregon Masters Swimming events are to be hosted in March and then April.  The April meet is the focus meet for the majority of people in Oregon and should be for you as well!  The Oregon City SCM meet will be held March 10-11.  This is a very fun meet that is dual-sanctioned with USA Swimming, so the old people get a chance to swim at the same meet with kids.  It's really fun to watch the kids swim and to see how excited they are to see the older swimmers, like 95-year-old Willard Lamb, compete.
Then in April, the biggest Oregon meet of the year will be held in Corvallis on the 20th through the 22nd.  Most of us from Superior who swim together regularly will be attending and I hope you will be too!  It's a really fun meet and a great weekend of fun with fellow swimmers.  Put it on your calendar now – Corvallis, April 20-22, 2018!
SUPERIOR TO OPEN AT 7AM INSTEAD OF 8AM ON SUNDAYS
A quick note here for Superior swimmers: starting on January 7th, 2018, Superior will be opening the doors at 7am instead of 8am.  This should alleviate some of the pressure on the pool at 8am, which has historically been a very busy time.  Huge thanks to Superior for testing out this change!
OK, that's all for now.  Sorry this got so long!  There won't be much happening throughout the winter, so the length and frequency of emails will probably lessen.  Mark Hageman is putting together a workout plan for the core group of us who swim together in the mornings.  I hope to post it on the website eventually so that everyone can do the workouts if they choose to.  The workout plan will be targeting the April Association meet, which should be everyone's target event.  I'll send an email out with a link to let people know about the workouts once they are complete.  Hopefully, people can use them as a guide and modify them as needed to suit their desires and be ready to swim fast in April at the Association Meet!
Have a very Merry Christmas and Happy New Year everyone.  And I'll see you all poolside in 2018!