Hello SOMA swimmers,
For those of you who missed it, a great photo (attached) of Medford (Superior) 
SOMA swimmer Molly Clark
 was recently featured in an article about visualization in the most recent May/June SWIMMER magazine.  Very cool Molly!  You look totally focused and ready to race in that photo 🙂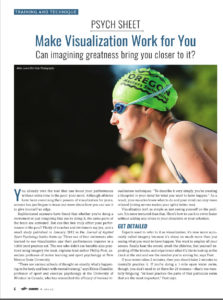 Registration for the Gil Young meet, which serves as the long-course association championship for Oregon Masters Swimming, is now open!  Sign up here:
Note the date has changed from late August to 
July 20-22
, so this event is fast approaching.  It's time to really get focused and in shape!
This is the summer-time pool equivalent of the big spring OMS Association Champs SCY meet many of us attended in April.  SOMA swimmers will compete as a team again and vie for a banner against other Oregon workout groups.  I know several of us plan to attend and have a fun weekend together.  I hope many more of you can make it!
This is a long-course meet (50-meter pool), so for those of you who don't like turns, you'll be much happier at this meet.  Don't miss it!
And don't forget about the 
Oregon Open Water Association Champs at Foster Lake on July 12th.  
Open water events are a blast and if you've never done one before, this is a great one to start with because it is a "cable" swim where there is a guide rope along the entire length of the 1/4-mile course to help you swim straighter.  Registration for the event can be found here:
https://www.clubassistant.com/club/meet_information.cfm?c=1756&smid=9712
That's all for now.  For those of you new to the list (and anyone else who wants to find older information) who might want more information, if you visit this page on the SOMA website, you will see all old SOMA emails:
If you're not yet signed up with USMS and SOMA and would like to but aren't sure how just ask!
Feel free to reach out anytime (about anything) via email, text or phone.
See you all soon somewhere near or in water!
Matt Miller