I trust you all are working hard each day in the pool in preparation for the Oregon Association Championship meet in Corvallis, April 20-22.  This is THE target meet of the year for most Oregon Masters swimmers.  It should be yours as well!  This will be the first year of existence of SOMA and we have a great shot at placing well in the medium or large team category.  Whatever your level of swimming ability or fitness by then, we need you to come swim with us (you WILL score points for SOMA) and make SOMA and Oregon Masters history.  Just doing the relays would be a ton of fun and an option for anyone who doesn't feel ready to swim individual events.  Plan on being there!  It's going to be a memorable and very fun social sporting event that shouldn't be missed.
JOINING SOMA
For those of you who haven't done so already, now is the right time to join SOMA, before you do your one-hour swim!  Here's a link to the page to do so:
When you go to choose your affiliation, be sure to choose the following:
LMSC: (OR) Oregon
Club: Oregon Masters (OREG)
Workout Group: Southern Oregon Masters Aquatics (SOMA)
If you have any questions about the process, feel free to email or give me a call 
(636-209-8916
).
ONE-HOUR ePOSTAL SWIM
I've written about it a few times already, but for those of you who aren't familiar with the USMS ePostals, this page gives some information about the event:
Quite a few of us have already done our 1-hour swim.  Several more, that I know of, are scheduled to do theirs later this month.  If you haven't yet done it yet or chosen your day, do so now!  Pretty much everyone on this list swims for an hour or so each time they are in the water.  And every yard counts towards Oregon's national standing.  For the benefit of our parent organization, alter your workout routine a bit and try a continuous 1-hour swim.  It's a great training swim and a good measurement of fitness.  I will time anyone who swims at Superior Athletic Club.  I know on the coast in Coos Bay, timers are readily available as well.  We have 3 weeks left in February.  Please let me know if you have any interest at all and we'll figure out a way for you to get it done!
PRELIMINARY SCM TOP TEN TIMES FOR SOMA SWIMMERS
USMS recently published the preliminary Short Course Meters (SCM) top ten rankings for 2017.  Quite a few of us from SOMA went to a number of short course meters (SCM) meets this fall and winter.  The most well-attended meet by SOMA swimmers was the Puget Sound Masters SCM meet in Federal Way, WA, in November where six of us were in attendance and had a really fun weekend.
Our hard work paid off as quite a number of us were able to earn national top ten times in our age group.  Below, in alphabetical order,  is a list of SOMA swimmers who earned national top ten times during the SCM season:
Mike Dix earned 4 SCM top ten times for men 45-49.  He was 3rd in the 200 fly (2:27.72), 7th in the 200 back (2:41.73),  8th in the 400 IM (5:33.97), and 9th in the 100 fly (1:06.22).  Congrats to Mike and his first career SCM top 10 times!
Barry Fasbender
 earned 9 SCM top ten times for men 80-84.  His highest showing was first in the 200 fly (4:52.32), earning All-American honors for the 13th time.  His 200 fly was also an Oregon record.  And Barry had many, many 2nd place showings.  Barry has a very long career in Masters Swimming and this SCM season put him over 600 top ten achievements.  Wow!
Mark Hageman
 earned 6 top ten times for men 55-59.  His highest showing was 3rd in the 200 IM (2:31.01) and his Oregon record 200 free (2:14.55) was 6th.  These were Mark's first top ten achievements, but I expect many more in the coming years.
Willard Lamb
 is our "ringer" of sorts.  For those of you who don't know "Wink" (his preferred nickname), he is a legend in Oregon and US Masters Swimming.  While he lives in southern Washington, Wink joined SOMA this year because I have been serving as his "manager" since coaching him this past summer at USMS Nationals in Minneapolis.  He turned 95 last year and set world records in every freestyle and backstroke event along with the 100 IM in the men's 95-99 age group.  Wink earned 10 top ten times, all 1st places!  That makes it his 11th year earning All-American honors.  Wink will be swimming as part of our SOMA team at the Oregon Association Champs in April.  Don't miss the opportunity to cheer him on as he attempts to set MULTIPLE national records at that meet while swimming with SOMA.  They would be WORLD records but the US is the only country who recognizes yards, so they are considered national records.
Matt Miller
 (I) earned 8 top ten times for men 40-44.  My highest showing was 1st in the 1500 free (17:59.34), earning All-American honors for the first time.
Mike Servant
 earned 3 top ten times in the men 45-49 age group.  Mike earned his first top ten a few years ago in the 100 free.  This year he got on the board again in the 50 free (26.02), 100 IM (1:05.94) and 50 back (29.96).  As one might imagine, there are a lot of people who swim the 50s of each stroke and 100 IM.  And the 50 free is the hardest event to make it on the top ten list in any age group.  A super impressive season for you, Mike!
Maggie Trujillo
, with only a couple months of training, was able to earn her first two national top ten achievements in the women 30-34 age group.  Maggie was 9th in the 200 back (2:45.07) and 10th in the 50 fly (33.81).  Like Mark, I expect Maggie to earn many more top ten achievements in the coming years.
SOMA PARKA – ORDER SOON!
Sorry to repeat this for most of you, but there are several new people on the email list and I want to be sure they have this information.  Quite a few of us, including me, have already ordered our custom SOMA parka.  There is a 6 to 8 week delivery time, so be sure to order soon in order to have it for the Oregon Association Champs meet in April!  Anyone who comes to the OMS Champs meet will also receive a SOMA 2018 State Team T-shirt.  Between the shirts and parkas, we're going to impress with our SOMA team spirit!
If you're interested in getting a parka of your own, start here: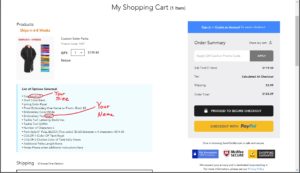 And here's what I chose for options:
FRONT EMBROIDERY: 
One Name on Front – Block $5 [+$5.00]
TACKLE TWILL LETTERING (BACK): 
Yes
TACKLE TWILL: 
SOMA
NUMBER OF CHARACTERS: 
4
FONT STYLE: 
5″ FULL BLOCK [Two color]- $3.60/character [+$3.60]
COLOR 1 (COLOR OF TEXT): 
Royal
COLOR 2 (OUTLINE COLOR OF TEXT): 
Kelly Green
ADDITIONAL 

PARKA

 LENGTH: 
None
The cost was $123.39 shipped.  For more reference, 
here is a screenshot
 of the options and what they look like during the checkout process.  The only things that would be different for anyone else ordering them would be the size of the 
parka
 and embroidery text on the front.  As usual, feel free to email or call 
(636-209-8916
) if you have any questions.
SOMA WEBSITE AND FACEBOOK PAGE
They're still very much under construction, but SOMA now has a website and Facebook page.  The links are:
I've been putting all email blasts like this one on the website under the "Announcements" menu option.  So for those of you who are receiving your first SOMA email, you can go read all of the previous emails you've missed on the website here:
I plan to start adding the emails to the Facebook page as well, as I have time.
SOUTHERN OREGON 
LAKE
SWIMS
Sorry again for the repeat here, but these events are very important for the health of swimming in southern Oregon, so I want to be sure that everyone knows when and where they are happening so they can support the event in some way, if at all possible.  Please let your friends and families know about these events.
SOMA will be hosting or strongly supporting 3 open water swim events this summer:
Several of us are already signed up for Applegate 
Lake
.  Mike Servant and I will be race directors for this event for the 2nd year.  It's the longest-running open water event in Oregon and is one of the best events on the west coast.  This year it will host the USMS 10K National Championships.  I hope that everyone either 
swims
 the event, volunteers at the event or does both!
The Eel 
Lake
Swims
 have been running for 12 years now, this year being the 13th.  We inherited this 
swim
 from Central Oregon Masters Aquatics (COMA) this year because the logistics of running the event weren't going to work out for them.  I'll be race director and Jayna Tomac and Ralph Mohr in Coos Bay will be heavily assisting with the event.  Again, I hope that everyone on this list attends or volunteers to help at the event.  It really does take a team of people to make these things happen!
And lastly, the 
Lake
 of the Woods 
Swims
 will be added to the 
Oregon Open Water Series
 this year for the first time (Applegate and Eel are already part of it).  Due to the geographic location of this event, I suspect that it will be better attended by 
SOMA
swimmers
 than the other 2 events…at least that is my hope!  And again, please consider swimming the event or, at the least, helping out by kayaking (for safety) or any other role that may be needed.
OK, that's all for now.  Keep swimming, my SOMA friends!  I can't adequately express how excited I am to see you all and swim together at the state meet in 2 short months.  Work hard and bring your SOMA team spirit to Corvallis in April!